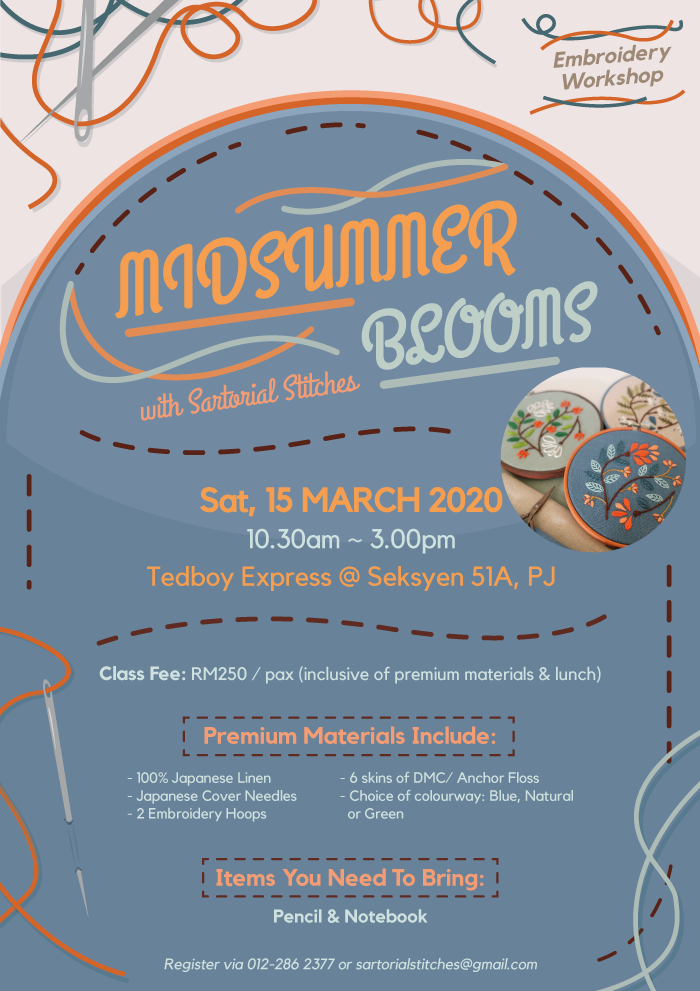 Outlet: Tedboy Seksyen 51A
Duration: 4 hours
Class Fee: RM250 / pax (inclusive of premium materials & lunch)
Level: Beginner

Premium materials include:
- 100% Japanese linen
- Japanese Clover Needles
- 2 embroidery hoops
- 6 skeins of DMC / Anchor Floss
- Choice of colourway: Blue, Natural or Green

Items you need to bring along:
- Pencil
- Notebook

Class structure:
- Introduction to the following 7 hand embroidery stitches:
a. Stem stitch
b. Fish Bone stitch
c. Fly stitch
d. Lazy Daisy stitch
e. Straight stitch
f. French knot
g. Satin stitch
- Pattern transfer methods
- Stitching on transferred pattern

Crafter: I prefer to keep the class small for an up close and personal learning experience. Hence class bookings will be on a first come first serve basis upon payment. I hope you understand. The class will commence when there are 2 or more student sign-ups.

NOTE: Please ensure that you are able to attend the class before making payment. All payments made are NOT refundable. However you may find a replacement.

Please do not hesitate to PM me for any enquiries or concerns that you may have.
For registration: 012-286 2377 or sartorialstitches@gmail.com

Thanks so much and let's begin hand stitching!