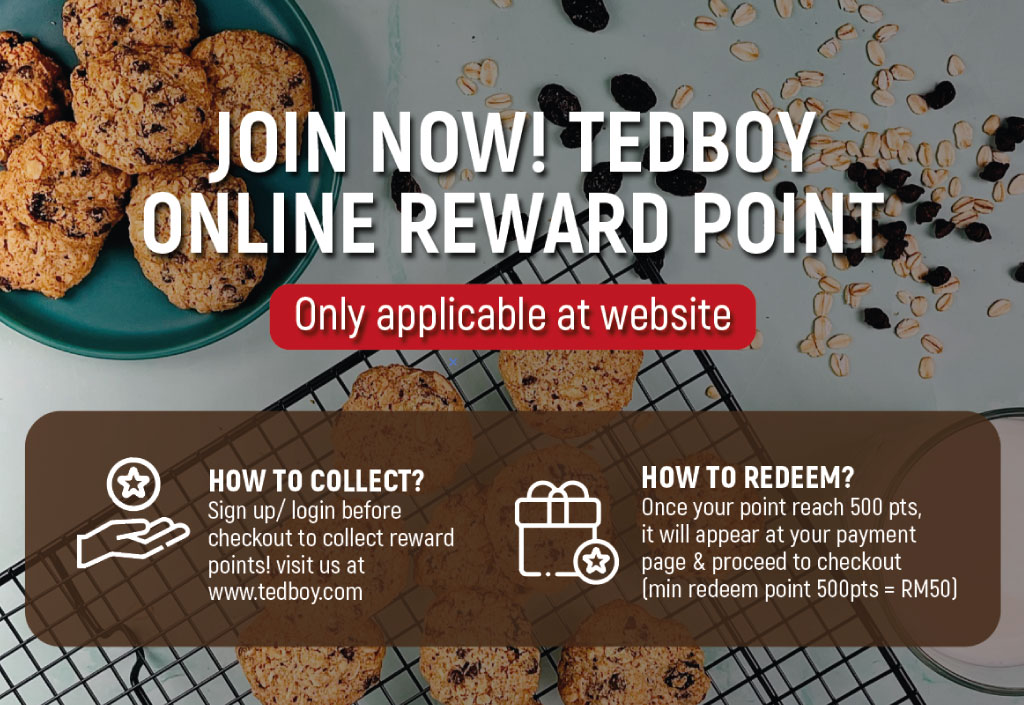 ONLINE REWARD POINTS
This programme rewards members for all their spend at tedboy.com in an easy and simple way! By signing up as a Registered User before proceeding to place an order, customers can collect reward points based on their final check out.
Every RM1.00 spent = 1.00 reward point. You can redeem your points once it reach 500pts = RM50 OFF
No. At the moment the reward points does not have expiry date for online account.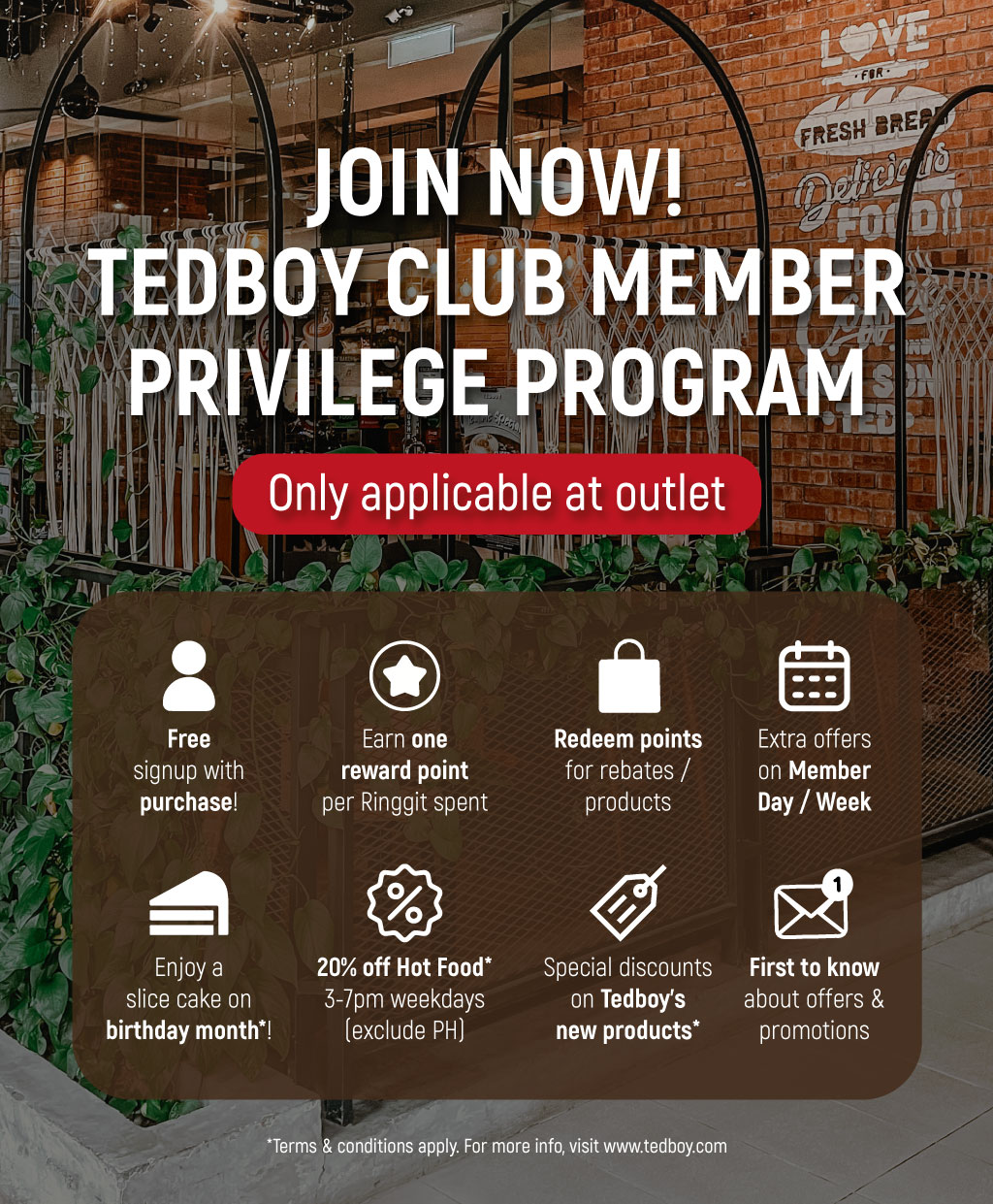 REWARD POINTS
Make your
purchase at any Tedboy outlets.
Kindly present your membership number (your registered mobile phone number) upon purchase.
NEW!:
We now offer reward points for online purchases, however it will be separate reward points from your in-store purchase. You can check your reward points at: (i) Checkout Page (ii) Profile page
Every RM1.00 spent = 1.00 reward point. For example, if your bill comes up to RM50, and you have applied a discount of RM10, the total you'll have to pay is RM50-RM10 = RM40; and RM40 = 40 points.
Yes, you can! Reward points are earned based on total amount spend or paid.
Yes, your reward points will expire the same year you have collected them. Example: All reward points collected in 2021, if unutilise, will expiry by 31 December 2021 (end of the same year). Beginning 2022, everyone will start with zero points.
* * *
ABOUT MEMBERSHIP
Tedboy Club is a membership programme that rewards members for all their
spending at any Tedboy outlets
in a easy and simple way! By participating in this programme, members will be able to earn and
redeem at all Tedboy outlets.
No, there are no hidden fees. Tedboy Club is free for registration!
Please read our Privacy Policy for details.
You can apply for membership at any Tedboy outlets. Our staff will request you to fill in a registration form (required: Full Name, Email Address, Contact Number and Birth Date).
The minimum age is 18 years old. Open to all residents in Malaysia and non-Malaysian, with a Malaysian mobile number.
Currently our Tedboy website does not support membership application submission. You will need to sign up at our physical Tedboy outlets.
There is no card required or presented. Your membership number is your registered Malaysian mobile number.
A valid and active Malaysian mobile number is preferable, to ensure that you will receive exclusive members-only offers via SMS.
No. Membership is valid for a lifetime and there are no renewals or annual fees required.
Fret not, we hope you haven't forgotten your full name too!
Do inform our staff upon order and we may update your phone number for you.
Yes! Only if you want to enjoy our complimentary slice cake on your birthday month! Providing the real birth year can also help us to determine what you would like to see in our offers and promotions.
Unfortunately, no. Do get your friend to sign up his/her own membership!
Just head to any Tedboy outlets and request for an update of your details for your membership, OR email us at manager@tedboy.com.
Yes, you can start earning points at your next purchase at any Tedboy outlets after registration. Earned points will be added to your account and available to use.
What can you redeem with your points? Find out here.
For full terms and conditions, click here: Tedboy Club Terms & Conditions
For frequently asked questions, click here: Tedboy Club Membership FAQ