Passion in Heart And Soul.
Hardworking with Integrity.
Friendly and Team Player.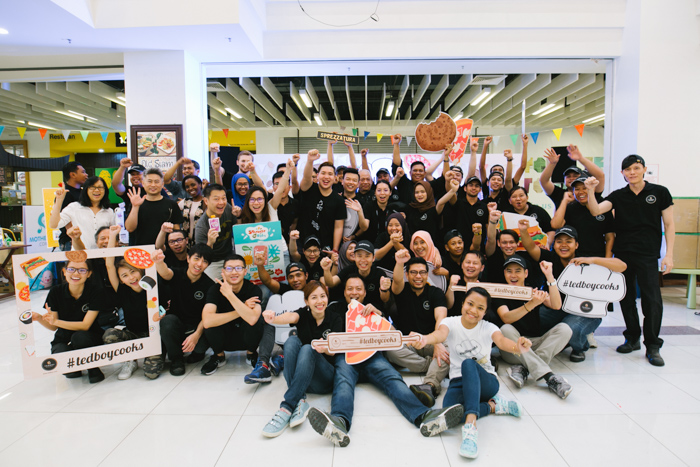 We're always looking for people with passion in their heart and hunger in their tummies for good and healthy food. If you're that type of person, we would love for you to join our Tedboy family!
Where do I start?
We would never put you in a difficult position and expect you to be a food connoiseiur on your first day. There is more than just good food! We will have you start off as a trainee as part of the floor crew, so you will get used to our bakery cafe life. We encourage you to try different roles and learn new skills (who knows you'll find your hidden talent or passion along the way!). You'll receive all the support, mentor and encouragement from everyone in the team.
What is Tedboy all about?
We pride ourselves by being a bakery cafe, serving family values to everyone. Passion and integrity are the values that we live by at Tedboy. We work hard, and play harder to keep everyone in action! (Good coffee works too!)
Current Opportunities
To apply for a position, check the available jobs below, or contact us directly at manager[at]tedboy[dot]com
COMMIS 3/CAKE DECORATER (CAKE DEPARTMENT)
Fresh Grads looking for an opportunity to learn various types of cake preparation (mixing and deco). 1 year working experience in related field is an added advantage.
Degree/Diploma/Certificate in Culinary Art/Pastry.
Preparing cookie, sponge, ganache, filling, cake decoration and outlet orders according to Tedboy's recipe and SOP with HACCP & HALAL standard.
Must possess a positive attitude and have the ability to work with a variety of people and in cooperation with co-workers efficiently and effectively.
Location: Tedboy Central Kitchen @ Seksyen 51a,PJ
聘请蛋糕师傅
应届毕业生寻找机会学习各种类型的蛋糕准备(混合和装饰)。有1年相关工作经验者优先。
拥有烹饪艺术或糕点专业学位/文凭/证书。
根据公司的配方及符合HACCP和HALAL标准的SOP来准备饼干、海绵、巧克力酱、馅料、蛋糕装饰和餐厅蛋糕订单。
必须拥有良好及积极的态度,有能力与各种各样的人一起工作,并与同事高效合作。
工作地点: Tedboy Central Kitchen @ Seksyen 51a,PJ
SERVICE CREW
Interact closely with customers in a friendly & helpful manner
Maintain the store appearance and cleanliness
Maintain the cash register and cashier reporting
Serve takeaway and dine in customers
Prepare beverage according to SOP
Knowledgable in product features and benefit
Upsell products and provide memorable customer experience to acheive outlet sales target
Job Types: Full time, contract
Location (Choose one):
1. Tedboy Bakery, Telawi 4
2. Tedboy Bakery, Jaya One
3. Tedboy Express, Menara AIA Sentral
4. Tedboy Express, Seksyen 51A
5. Tedboy Express, Atria Shopping Gallery
服务人员
友好和乐于助人的方式与顾客互动
保持餐厅的外观和清洁
管理收银机和提供收银报告
提供外卖和用餐
根据SOP准备饮料
通晓产品功能和好处
销售产品和提供难忘的顾客体验以达成销售目标
工作类型:全职,合约
工作地点(选择一项):
1. Tedboy Bakery, Telawi 4
2. Tedboy Bakery, Jaya One
3. Tedboy Express, Menara AIA Sentral
4. Tedboy Express, Seksyen 51A
5. Tedboy Express, Atria Shopping Gallery