Passion in Heart And Soul.
Hardworking with Integrity.
Friendly and Team Player.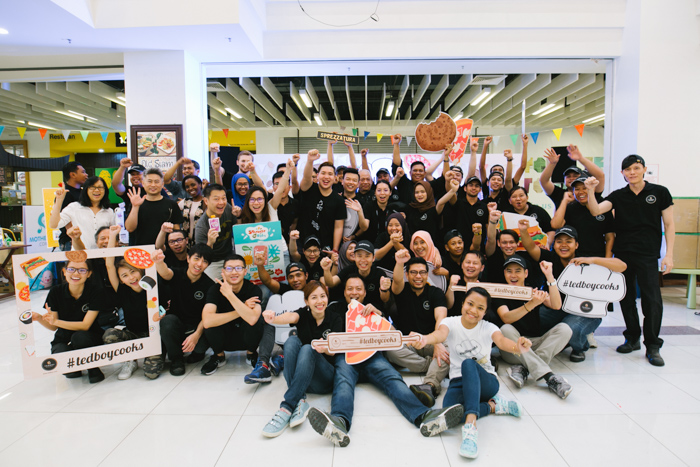 We're always looking for people with passion in their heart and hunger in their tummies for good and healthy food. If you're that type of person, we would love for you to join our Tedboy family!
Where do I start?
We would never put you in a difficult position and expect you to be a food connoiseiur on your first day. There is more than just good food! We will have you start off as a trainee as part of the floor crew, so you will get used to our bakery cafe life. We encourage you to try different roles and learn new skills (who knows you'll find your hidden talent or passion along the way!). You'll receive all the support, mentor and encouragement from everyone in the team.
What is Tedboy all about?
We pride ourselves by being a bakery cafe, serving family values to everyone. Passion and integrity are the values that we live by at Tedboy. We work hard, and play harder to keep everyone in action! (Good coffee works too!)
Current Opportunities
To apply for a position, check the available jobs below, or contact us directly.
We Want You!

POSITIONS AVAILABLE / JAWATAN KOSONG / 招聘岗位
Baker / Pembuat Roti / 面包师
Service Crew / Kru Servis / 服务人员
Kitchen Crew / Kru Dapur / 咖啡师
Commis
Administrator / Admin / 行政人员
Barista / 厨房工作
Sales Person / Jurujual / 售货员
AVAILABLE:
Job Types: Full time, contract, partime
Location:
1. Tedboy, Telawi 4
2. Tedboy, Jaya One
3. Tedboy, Menara AIA Sentral
4. Tedboy, Seksyen 51A
5. Tedboy, Atria Shopping Gallery
6. Tedboy, Wisma Averis Bangsar South
7. Tedboy, Equatorial Plaza

WHY TEDBOY?
Transparency
Double Pay on Public Holiday
Service Fee Incentive
Sales Target Incentive
Staff Discount Benefit
Attendance Bonus
Meal Allowance
Annual Staff Increment
Career Advancement
Culture of Learning
Diversity
Proudly non-franchise