Upcoming workshop: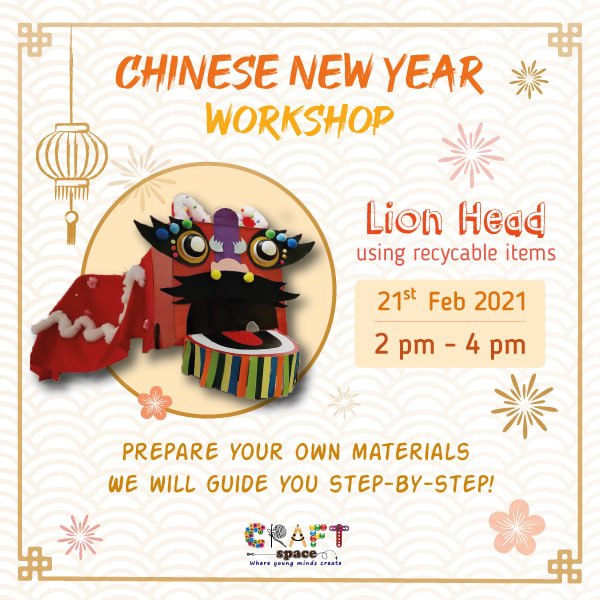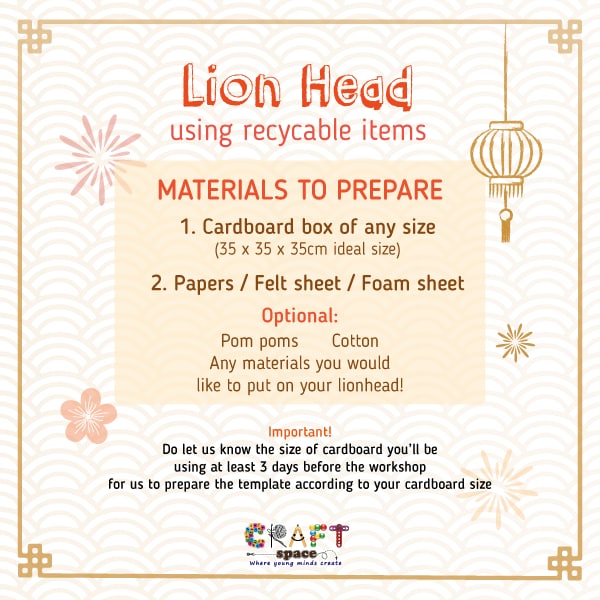 FB Live - DIY YOUR OWN CNY LION HEAD !
Create your own CNY Lion Head using recycable materials and items!
This is an online virtual class, and will be conducted on our Facebook Live on 21 Feb, 2pm.
Together with Tedboy, this class is conducted by Craft Space experienced crafter and this is the perfect class for your kids and family bonding time.
Materials are to be prepared by participant own (please see guide), and a template will be provided by Craft Space based on the size of your cardboard.
Register here:
Our past TedboyCooks events:
2019
29Dec - Cake & Fruit Pops
22Dec - Christmas Cookie & Cupcake
15Dec - 1000 Layer Puff Pastry
8Dec - Steamed Bao with Duck or Chicken
1Dec - TedboyCooks: Spaghetti & Ravioli Class
25Aug - TedboyCooks: Hand-Peeled Pasta & Ravioli Class
18Aug - TedboyCooks: Bento Making Class
11Aug - TedboyCooks: Chicken Nuggets Making Class
4Aug - TedboyCooks: Spaghetti Making Class
28Jul - TedboyCooks: Pretzel Making Class
2018
25Aug - TedboyCooks: Hand-Peeled Pasta & Ravioli Class
18Aug - TedboyCooks: Bento Making Class
11Aug - TedboyCooks: Chicken Nuggets Making Class
4Aug - TedboyCooks: Spaghetti Making Class
28Jul - TedboyCooks: Pretzel Making Class
2017
30Dec - TedboyCooks: Hand-Peeled Pasta & Ravioli Class
23Dec - TedboyCooks: Christmas Cookies
16Dec - TedboyCooks: Hi-tea Scones & Sandwiches
9Dec - TedboyCooks: Bento
2Dec - TedboyCooks: Calzone
25Nov - TedboyCooks: Rainbow Waffles
18Nov - TedboyCooks: Sushi & Onigiri
11Nov - TedboyCooks: Pizza
4Nov - TedboyCooks: Spaghetti
9Sept - Tedboy Cooks Open Day #2
26Aug - TedboyCooks: Sushi Making Class
19Aug - TedboyCooks: Pizza Making Class
12Aug - TedboyCooks: Waffles Making Class
5Aug - TedboyCooks: Sushi Making Class
29Jul - TedboyCooks: Sandwich Class
22Jul - TedboyCooks: Cookies Class
15Jul - TedboyCooks: Pizza Class
10Jun - TedboyCooks: Pizza Class
7Jun - TedboyCooks: Cookies Class
3Jun - TedboyCooks: Cookies Class
31May - TedboyCooks: Pizza Class
21May - TedboyCooks Open Day
Other Events:
2020
27Nov - Polka Dot Digital Official Launch
12Sep - Brush Lettering Workshop with WhitePaper.co
23Aug - Mandarin Lettering Workshop with WhitePaper.co
15Aug - Brush Lettering Workshop with WhitePaper.co
26Jul - Wildflowers Watercolour Workshop with weekendiminlove
15Mar - Hand Embroidery Workshop with Sartorial Stitches
14Mar - Natural Body & Lip Care  Making Workshop with Handmade Soap Malaysia & J Savonette Handmade
14Mar - Natural,Duo Colour & Lipstick Palette Making Workshop with Handmade Soap Malaysia & J Savonette Handmade
29Feb - Mandarin Brush Lettering Workshop with WhitePaper.co
23Feb - Black & White Semi-Realisti Floral Workshop with weekendiminlove
9Feb - Modern Macrame Wallhanging Workshop with nurtureknots
2Feb - Wild Flowers Watercolour Workshop with weekendiminlove
12Jan - Brush Lettering Workshop with WhitePaper.co
2019
12Jan - Brush Lettering Workshop with WhitePaper.co
22Dec - Live Coffee Portrait Painting with KL Sketch Nation
21Dec - Weekend Vibes Bazaar at MyTownKL
15Dec - Christmas Brush Lettering Workshop with WhitePaper.co
14Dec - Christmas Quarter Marketing 2019 at APW Bangsar
1Dec - Pen & Petal Hobby Class with Little Petal & WhitePaper.co
24Nov - Urban Sketching & Landscape Watercolour with Arttherapy
23Nov - Verbal2Visual: The Power of Communication with Inka
16Nov - Brush Lettering Workshop with Elevate Artistry
10Nov - Floral Acrylic Painting Workshop Foong Ying Ying
27Oct - Geometric Open Terrarium Workshop with Ficus & Jars
26Oct - Paint Your Own Halloween Pumpkin with MTMT Studios
20Oct - Petite Korean Style Bouquet Workshop with NudeFlower
19Oct - Urban Sketching & Landscape Watercolour by Arttherapy
5Oct - Moss Terrarium Workshop by Ficus & Jars
21Sept - Petite Korean Style Bouquet Workshop with NudeFlower
17Aug - Handmade floral Phonecase & Coaster Workshop with Daphne (MoreKL.my)
18May - Paint a cat on Caturday! by PK
4May - Nagomi Pastel Art by Debbie
20Apr - Learn Sketching Like ABC by Jerome
25Mar - Watercolour Workshop by The Craft Crowd
2018
28Jul - Statement Necklace & Earrings Workshop with DIYKL
28Apr - Leather Traveler's Notebook Workshop with DIYKL
28Apr - Modern Bifold Wallet & Keychain Workshop with DIYKL
2017
7Oct - Introduction To Espresso with Barista Guild Asia
25Aug - Coffee Watercolour Roses Workshop with Jyiwu Artisst
20Jul - Knitting Basic Workshop with Hooked
15Jul - Runway Inspired Statement Earrings Workshop with DIYKL
20Jun - Book Donation Drive
31May - Leather Clutch Workshop with DIYKL
13May - Desserts in Watercolour Class  with The Craft Crowd
22Apr - Leather Clutch Workshop with DIYKL