Merdeka Colouring Contest
Monday, August 5, 2019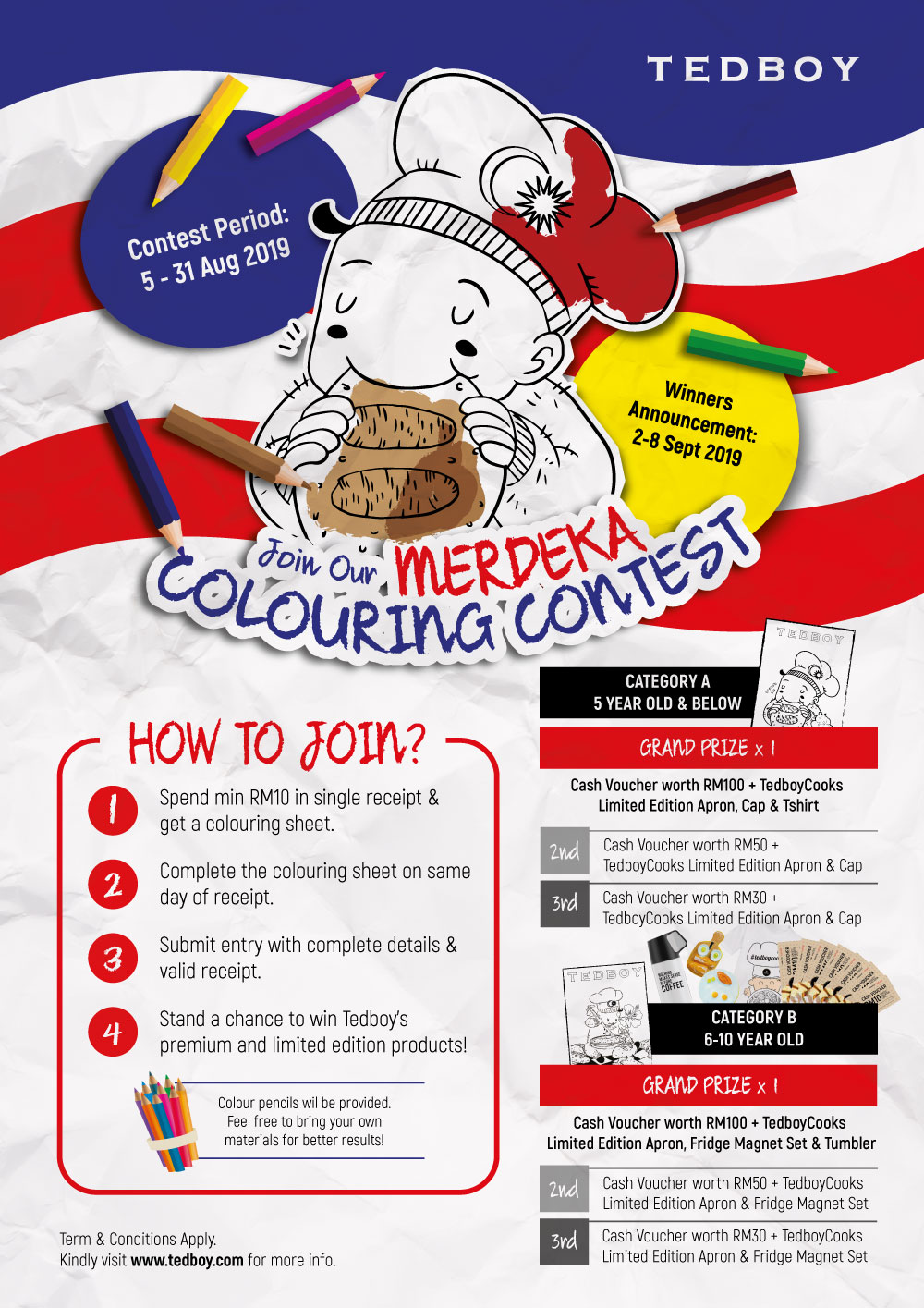 Terms & Conditions:
Tedboy's 2019 Merdeka Colouring Contest is open to Malaysian children age till 10 years old as of year 2019.


Category A: 5 years and below


Category B: 6-10 years old

Minimum spend of RM10 in a single receipt or transaction, at selected Tedboy outlets (Telawi 4, Jaya One & Atria) is required to join the contest. Only one entry per valid receipt. Multiple entries are allowed.

Contestant's parents or legal guardian's name and contact details must be clearly stated on the contest sheet.

All colouring should be original and should be done by the contestant him/ herself without assistance from others.

Tedboy will provide basic colouring materials (colour pencils), however contestant is encourage to bring their own materials for better results.

Contestants are required to complete their artwork on the same day of the valid receipt. Artwork cannot be continued at home or other place, or it will be forfeited.

Artwork must be submitted on the same day of the valid receipt to be eligible for this contest.

Shortlisted artworks are selected based on creativity and overall attractiveness, and winners are selected based on lucky draw. Results will be announced on the week of 2-8 September 2019 on social media. Tedboy will contact the winners directly in regards to the prizes.

Tedboy reserves the right to cancel, terminate or suspend this contest without prior notice. All entries and copyright subsisting in the entries become and remain the property of the Tedboy.

Management reserves the right to amend terms and conditions without prior notice.