Tedboy Celebrating Unity and Kindness: Happy 66th Merdeka!
As the nation embraces the spirit of patriotism, August and September hold special significance for Malaysia, with August 31st and September 16th marking key milestones in the country's history. Let's take a closer look at the meaningful events that transpired on these significant dates.
August 31st - Hari Merdeka (Independence Day):
On August 31st, Malaysians come together to honor Hari Merdeka, commemorating the end of British colonial rule in 1957. This historic day symbolizes the nation's journey towards sovereignty. The celebrations are vibrant and spirited, featuring lively parades, captivating cultural exhibitions, and engaging activities that spotlight Malaysia's rich and diverse heritage. It's a time for all Malaysians to unite, showcasing their national pride and shared identity. Merdeka!
September 16th - Malaysia Day:
September 16th 1963 holds immense significance as Malaysia Day. It was on this day the country was formed, uniting the Malayan Peninsula, Sarawak, Sabah, and Singapore under one flag. While Singapore later pursued its own path, Malaysia Day serves as a poignant reminder of unity amidst diversity. This occasion accentuates the multicultural tapestry that defines Malaysia today, emphasizing the importance of unity among the nation's people.
In line with the theme of unity and celebration for this 66th Merdeka, Tedboy has teamed up with Messyvoices to create exclusive merchandise for members of the Tedboy Club. As we were bouncing ideas over copious coffee and slices of cakes, we wondered how to make this collaboration pop! The AHA moment came– how about adding a dash of fun and patriotism with a special limited edition button badge? 🎉📌
After all, why not capture the spirit of the occasion with a stylish and meaningful accessory?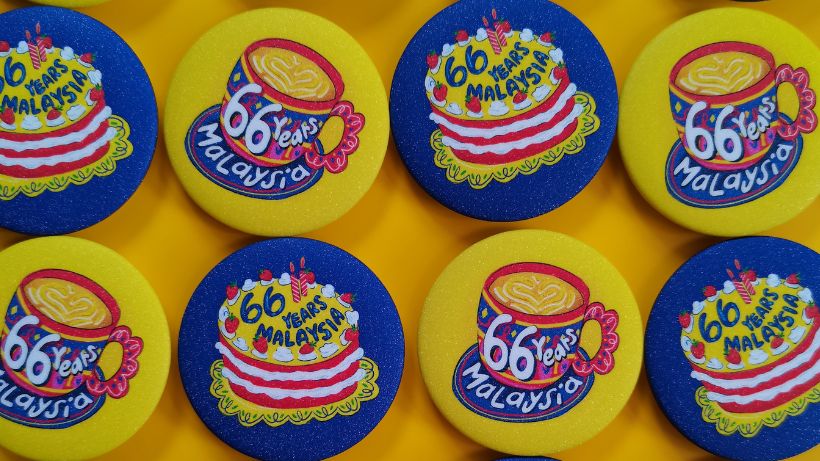 As a privilege for Tedboy Club Members, get this special edition button badge with minimum spend RM20 at selected Tedboy outlets! On top of that, you can enjoy 16%off from your total bill when you present the button badge upon making a purchase in September!*. See More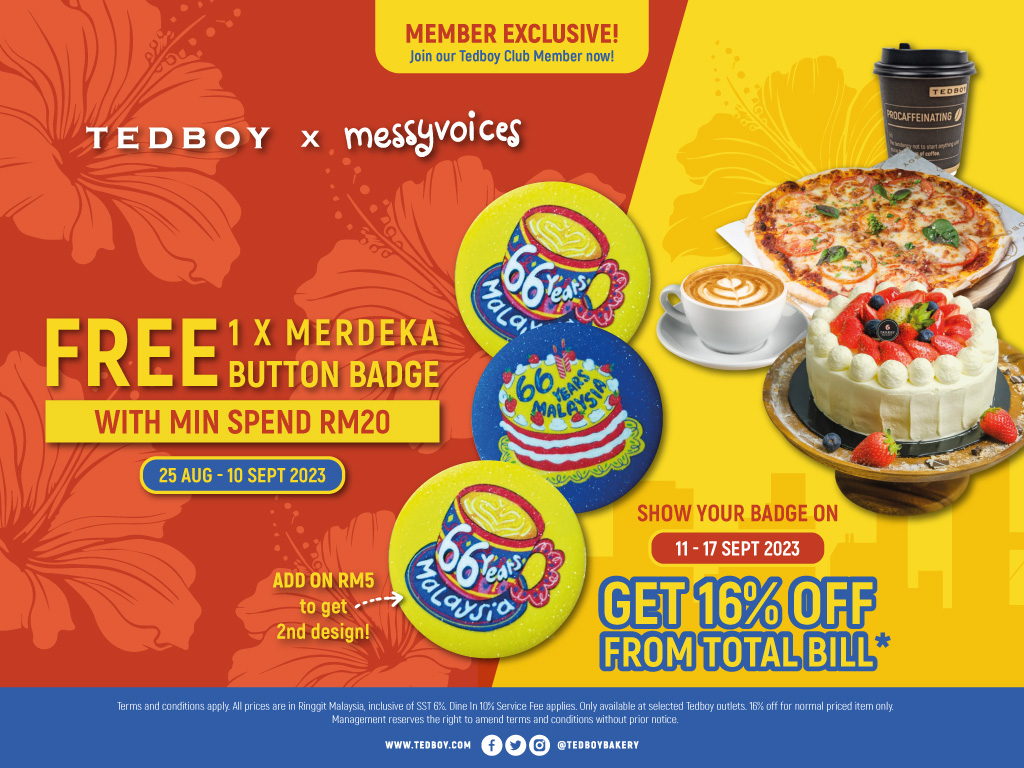 This collaboration serves as a heartfelt gesture of appreciation for the unwavering support shown by the club members. It's not just a celebration of Malaysian brand Tedboy, it's also a symbol of Malaysians coming together and supporting one another.
-----------
Messyvoices Studio is founded by a local independent artist who creates bright and colourful illustrations that are cute and quirky. She oftens draw animals (mostly cats) and have worked with a few brands. Visit her Instagram here for more works!